Article of Interest
Global Study Reveals Most Workers Enjoy What They Do (Gallup)
January 10, 2023
By Benedicte Clouet and Alden Lai
Work is central to people's lives. By some estimates, it's what the average person will spend nearly one-third of their lifetime doing. But are they enjoying the work they do every day?
A global annual study on wellbeing, conducted in 2021 in partnership with the Wellbeing for Planet Earth Foundation, finds that for the majority of workers around the world, the answer is "yes."
Work Enjoyment Is High Globally
Many factors influence whether people enjoy the work they do, including the tasks they perform, the relationships they foster and the meaningfulness they see in it.
Work enjoyment also measures something different compared with more traditional metrics such as job satisfaction and employee engagement. While these are related, enjoyment is specifically how someone feels at work; satisfaction is how content they are; and engagement is how involved and enthusiastic they are with their workplace. Overall, this measure adds to our understanding of employees' wellbeing and how they feel about their working environment.
The survey reveals that, on average, more than eight in 10 people worldwide who work full time or part time, for an employer or for themselves, said they enjoy the work they do. This percentage didn't drop below 50% in any country. Furthermore, in 34 countries, at least 90% of workers can answer this question affirmatively.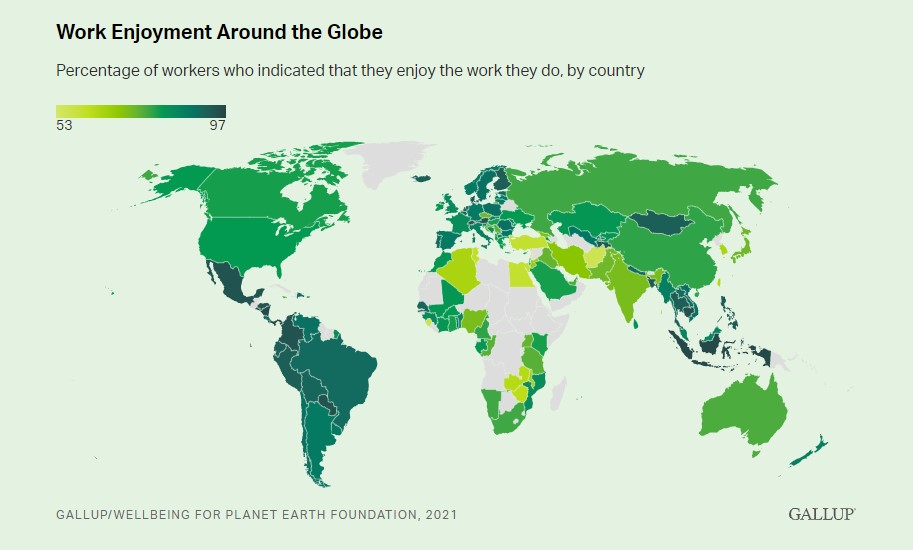 Gulf Between the Highest and Lowest Countries Reveals Inequalities
Many of the countries where the most workers enjoy what they do — with at least 94% of people saying they feel this way about their jobs — also have some of the highest scores on Gallup's Positive Experiences Index. For example, El Salvador, where 97% of workers claim to enjoy their work, also ranks in the top five countries with the highest positive daily experiences.
Although at least half of the workers in the countries that rank toward the bottom of the global list do claim to enjoy what they do, at least one in three workers in these countries do not. Afghanistan (56%) and Lebanon (53%), two countries in severe crises that also have the highest scores on Gallup's 2021 Negative Experience Index, reported the lowest work enjoyment, with nearly one in two workers not enjoying the work they do.
The similarities between high work enjoyment and positive experiences, and lower work enjoyment and negative experiences, suggest a relationship between day-to-day emotional experiences (including enjoyment) and enjoyment at work. This suggests that there are between-country cultural differences that also factor into the likelihood that an individual enjoys their work and feels positive experiences in their day-to-day lives.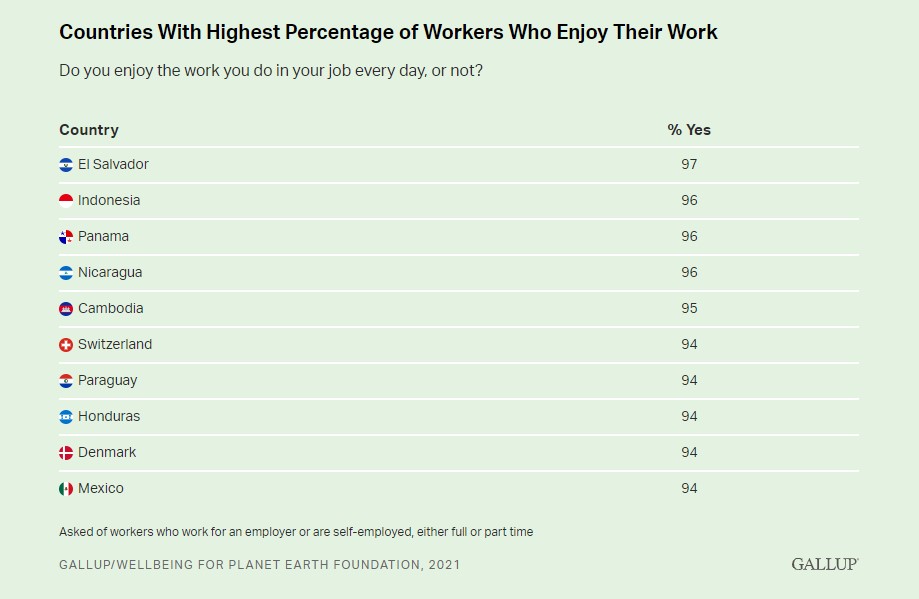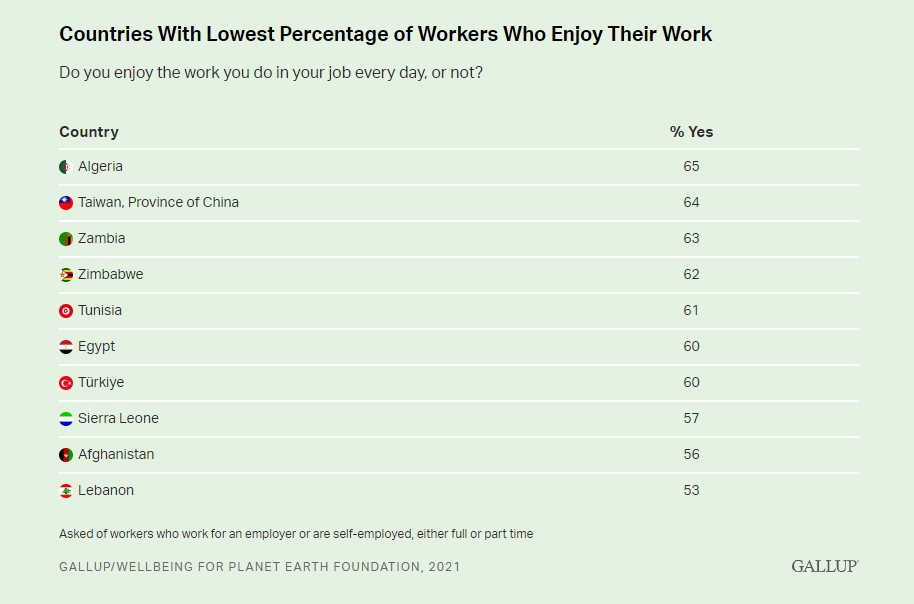 Workers Who Enjoy Their Jobs Rate Their Lives Higher
Gallup classifies people as "thriving," "struggling" or "suffering," according to how they rate their current and future lives on a ladder scale with steps numbered from 0 to 10, based on the Cantril Self-Anchoring Striving Scale. Those who rate both their current and future lives a 4 or lower are classified as suffering. Those who rate their current life a 7 or higher and their anticipated life in five years an 8 or higher are classified as thriving.
Based on the survey results, throughout the world, people who enjoy their work are also more likely to be thriving in their lives. In fact, while 37% of workers who enjoy their work rate their lives positively enough to be considered thriving, 21% of workers who do not enjoy their work rate their lives the same way — a 16-percentage-point gap.
Conversely, workers who do not enjoy their work are twice as likely to be suffering (17%) compared with workers who enjoy their work (8%). This difference illustrates how important it is for individuals to enjoy their work.


This finding adds to the research indicating that work plays an important role in an individual's life evaluation. Wellbeing is a multidimensional concept, and the relationship between work enjoyment or job satisfaction and life satisfaction is complex.
While work enjoyment is only one parameter of a good life, its influence on health and wellbeing has long been demonstrated. Given the amount of time people spend there, work can quickly become a drain on their entire lives when they lose interest and motivation in it. Conversely, when an individual is passionate about their work, and they feel valued, and find friendships, these positive feelings may color their outlook on life more generally.
Implications
Work enjoyment provides a means for organizations, governments and other stakeholders to measure the positive feelings workers have about the work they do. This measure adds to the existing body of research on metrics such as job satisfaction and employee engagement, which is strongly linked to higher productivity and better bottom lines.
A better understanding of the relationship between work enjoyment and life satisfaction can inform the design of better workplaces. As illustrated with enjoyment data, the workers who said they enjoyed their job were also more likely to be thriving and less likely to be struggling or suffering. This adds to the body of research that a good job is at the foundation of a life well-lived and can improve all aspects of wellbeing.
Authors
Benedicte Clouet is a senior consultant at Gallup.
Dr. Alden Lai serves as executive adviser to the Wellbeing for Planet Earth Foundation and the WPE lead for the Global Wellbeing Initiative. Lai is also an assistant professor of public health policy and management at the School of Global Public Health and affiliated faculty at the Stern School of Business, New York University.
Tagged
Related Insights
Discover what our researchers and industry experts are saying about wellbeing.
See More Insights